Country Boom is a cashless event. The event uses RFID technology which allows you to secure your debit or credit card to your wristband and purchase things with a swipe of the wrist. No more long lines, worrying about carrying enough cash or fear of losing your cards! Upon registering your wristband, it will require you to create a 4 digit pin for security purposes so your information is safe. Vendors and bars will not accept cash so if you choose to not use a card for payment, you have the option to load cash onto your wristband at a cash loading station on site.
DO NOT TRY YOUR WRISTBAND ON BEFORE THE EVENT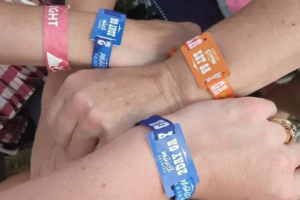 DO NOT try on your wristband once you get it. Once it is tightened, it cannot be loosened. Please put it in a safe location before Boom, and only put it on when you are on your way to the grounds. If your wristband has been cut or tampered with at all upon entry to festival, it will be VOID.
UPON ENTRY TO FESTIVAL/CAMPING GROUNDS everyone is subject to search.
Festival gate entrance: NO alcohol is allowed, NO weapons of any kind, NO backpacks or large bags, and NO umbrellas.
HOW TO REGISTER YOUR WRISTBAND
Go to: https://cashless.bestringpos.com/countryboom. You'll be prompted to enter your unique code that is physically stamped on your wristband's tag.
After entering your wristband number, you will create a unique 4-digit PIN to use throughout the festival. This is an exclusive PIN of your choice that will be needed to complete all purchases on-site. (This is not to be confused with your debit card PIN.)
Enter and follow the rest of the information prompted. We also ask for your email to send you receipts for each of your transactions.
CASHLESS WRISTBAND REGISTRATION
Tie your Country Boom wristband to your credit or debit card! Wristbands registered for Best Ring Cashless will be accepted at all beverage and food stations. It's safe, secure & easy!  You will not be allowed to purchase anything with cash.
CASH LOADING STATIONS ON SITE
Country Boom will be a CASHLESS EVENT! There will be cash loading stations on site for your convenience of loading your cash directly on your wristband chip. If you do not use all of the cash you loaded, you must stop by the box office on your way out of the gates Friday or Saturday permitting the box office is still open for a refund. No refunds will given after the box office closes on Saturday night. You must have your wristband and ID to collect funds. Do not lose your wristband or a refund will not be possible.
CASHLESS HELP TENT
If you forget your PIN, you will need to seek out the Cashless Help Tent located within the festival grounds.
Payments cannot be completed without your unique PIN so you don't have to panic if your  wristband is lost. You can also seek assistance registering your wristband, de-registering your wristband, or editing any information surrounding a current registration.
If you have issues outside of the festival contact [email protected].
Any issues with your purchases can be addresses by simply replying to the emailed receipt. Best Ring Cashless is an "open loop" system. Every time you tap your wristband to pay for something,  you're swiping your credit card. An email containing a receipt for your purchase will come to you immediately after each tap. Thank you & enjoy the festival!
Best Ring POS:
www.bestringpos.com
[email protected]