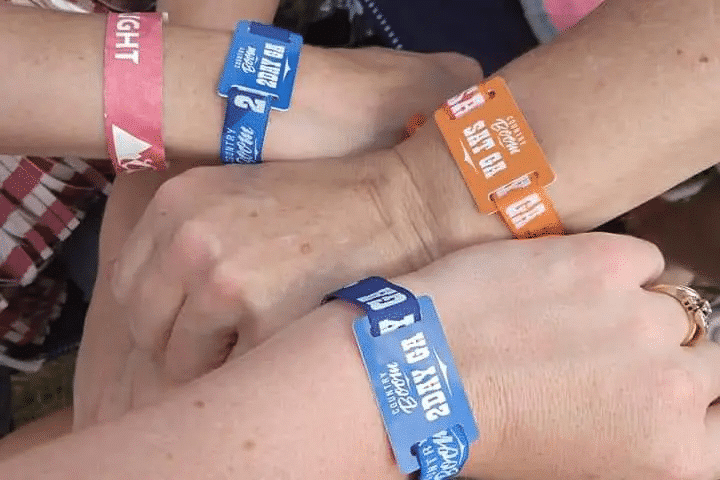 DO NOT TRY ON YOUR WRISTBAND BEFORE THE EVENT.
Once it is tightened, it cannot be loosened. Please put it in a safe location before the event, and only put it on when you are on your way to the grounds. If your wristband has been cut or tampered with upon entry to the festival, it will be VOID.
When Putting On Your Wristband
Put festival ticket/ RIFD wristband on your LEFT wrist
Put campground access pass and all other wristbands on your RIGHT wrist
Please Note
Upon entry to festival/ camping grounds everyone is subject to search.
At the Festival gate entrance: NO alcohol is allowed, NO weapons of any kind, NO backpacks or large bags, and NO umbrellas are permitted.
Cashless Wristband Registration
Country Boom will be a CASHLESS EVENT! Link your event wristband to your credit or debit card, or pre-load cash on-site for all beverage and food purchases. It's safe, secure & easy!
Cash will not be permitted for any purchases.
Cash Loading Stations On-Site
There will be cash loading stations on-site for you to conveniently add cash directly to your wristband.
If you do not use all of the cash loaded onto your wristband, a refund will be given to you at the ticket booth as you exit on Friday or Saturday. You must have your wristband and ID to collect funds.
Purchases cannot be completed without your unique PIN—so don't panic if your wristband is lost. However, a refund cannot be made if your wristband is lost.
How To Register
https://cashless.bestringpos.com/countryboom
Enter the link above or scan the QR code to the right—you'll be prompted to enter the unique code physically stamped on your wristband's tag.
After entering your wristband number, you will create a unique 4-digit PIN to use throughout the festival. This is an exclusive PIN of your choice that will be needed to complete all purchases on-site. (This is not to be confused with your debit card PIN.)
Enter remaining information as prompted—your email is requested in order to send you receipts for each of your purchases at the event.
Cashless Help Tent
A cashless help tent will be located within the grounds to assist you with registering, deregistering, forgotten PINs, or editing any information tied to your wristband.
Any issues with your purchases can be addressed by simply replying to the emailed receipt. Best Ring Cashless is an "open loop" system. Every time you tap your wristband to pay for something, you're swiping your credit card. An email containing a receipt for your purchase will come to you immediately after each tap.
If you experience issues outside of the festival, please contact [email protected].
Thank you and enjoy the festival!